Last updated: August 13th, 2023
---
When you buy through our links, we may earn a commission. Products or services may be offered by an affiliated entity. Learn more.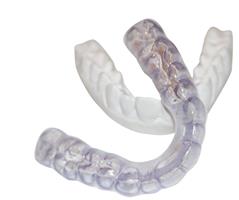 Manufacturer: Sparkling White Smiles Dental Lab
Rating: 1720 reviews | Price: $99.99
Table of Contents
Product Description
3mm is the recommended standard thickness for a professionally made Custom Night Guard.
Free from harmful substances like BPA, Latex, and Phthalate.
Specifically designed for moderate to severe teeth grinding and clenching.
Made of extra durable, stronger laminate material that resists abrasions and handles heavy teeth grinding and clenching.
Custom-fitted, not a generic boil-and-bite guard.
FDA-approved EVA material ensures safety and comfort.
Save on dental bills by ordering directly from the dental lab.
Lifespan ranges from 2-5 years, depending on the degree of teeth grinding and clenching.
Optional Customization & Add Ons
Choose between an upper or lower guard.
Discounted duplicate night guards available.
Thin version for daytime use.
Front Cut Option for added comfort.
Option to add color to your night guard.
Additional products like Oral Guard Professional Dental Appliance Cleaner and Custom Teeth Whitening Trays.
Expedited 1 to 2 day lab service for faster results.
Limited Time Holiday Edition: Patriot Guard in Red, White & Blue.
Frequently Asked Questions (FAQs)
How do I know if an upper or lower night guard is needed?
The choice between an upper or lower night guard is based on personal preference. Consider factors like teeth wear and dental conditions. For more detailed information, consult with a dental professional.
Can a custom teeth grinding mouth guard be made even with missing teeth?
Yes, these custom guards can accommodate individuals with missing teeth. The precise impression ensures a snug fit regardless of missing teeth.
Customer Reviews
Jutta V. from Texas, US says:
"Easy to use and very comfortable. The impression process was simple and the fit is perfect!"
Genevieve K. from Missouri, US remarks:
"The kit was user-friendly and the night guard provides much-needed relief. It's comfortable and not bulky."
Debra M. from United States states:
"I love these night guards! The impression was easier than the dentist's and the price is unbeatable. Highly recommended."
---
Comments
No Comments
---
---