Last updated: August 13th, 2023
---
When you buy through our links, we may earn a commission. Products or services may be offered by an affiliated entity. Learn more.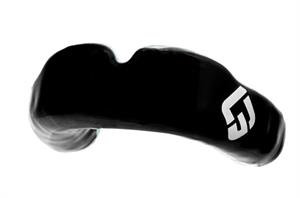 Table of Contents
Product Overview
Model: GLAPXLMG
Price: $34.99
Availability: In Stock
Shipping Restrictions: Exclusive to the United States.
Key Features
Integrated with TRAUMASHIELD™ technology for enhanced shock absorption.
Designed for the discerning athlete prioritizing both safety and comfort.
Boasts patent-pending pre-indentation, ensuring a quicker break-in and an impeccable fit.
Constructed from dental-grade materials, ensuring durability and safety.
Sizing & Age Group Recommendations
Junior: Recommended for ages 6-12.
Senior: Suitable for individuals aged 12 and above.
Shipping Information
Guardlab Apex Mouthguard is promptly dispatched, usually within a day of purchase. However, do note that this product is limited to shipping within the US and cannot be delivered internationally.
FAQ
Is the Guardlab Apex Mouthguard suitable for contact sports?
Yes, thanks to its TRAUMASHIELD™ technology, it provides enhanced shock absorption, making it ideal for contact sports.
How does the pre-indentation feature benefit the user?
The patent-pending pre-indentation ensures a snug fit, reducing the break-in time and providing superior comfort from the get-go.
Are there any age restrictions for using the Guardlab Apex Mouthguard?
Yes, there are two variants available: The Junior variant for ages 6-12 and the Senior variant for ages 12 and above.
---
Comments
No Comments
---
---