Last updated: August 13th, 2023
---
When you buy through our links, we may earn a commission. Products or services may be offered by an affiliated entity. Learn more.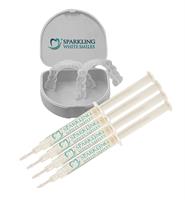 Table of Contents
Product Overview
Item Number: SWSTWT4
Manufacturer: Sparkling White Smiles Dental Lab
Rating: ★★★★☆ (Based on 14 reviews)
Price: $89.99
Product Description
The Sparkling White Smiles Custom Teeth Whitening system is a revolutionary method for achieving that bright smile you've always wanted. Each package includes two tailor-made teeth whitening trays (one for the upper and one for the lower teeth), four syringes of high-grade teeth whitening gel, and everything you need to make an impression of your teeth at home. Designed by experienced dental technicians, the trays are made in the USA, ensuring quality and safety.
Not only is the custom tray method recommended by dentists for its precision and even whitening effects, but it also saves you hundreds compared to in-office treatments. With a 100% satisfaction guarantee, this system promises to eliminate tough stains, from coffee to tobacco, restoring your teeth's natural brilliance.
Sparkling White Smiles vs. Other Methods
When compared to other teeth whitening methods, the custom tray approach stands out. Nine out of ten dentists recommend it as the gold standard in teeth whitening. Other methods, including laser treatments or over-the-counter strips, can't match the coverage and uniformity that custom trays provide. With trays tailor-made to fit your teeth, the gel covers the entire tooth surface, leading to a brighter and more consistent result. Furthermore, custom teeth whitening trays offer a more cost-effective solution in the long run, with trays that last 20+ years and enough gel for up to two years of treatments.
Frequently Asked Questions (FAQs)
Can I use a custom teeth grinding guard for teeth whitening?
No, it's not advisable. Custom teeth grinding guards are snug-fitting and may prevent even distribution of the whitening gel. Our custom teeth whitening trays are soft, thin, and specifically designed to allow the gel to spread evenly for optimal results.
Is the whitening gel safe for teeth? Do teeth become sensitive post-application?
Our gel is a recent formulation with minimal sensitivity concerns. Most users report no issues with the 22% whitening gel, while very few have reported sensitivity with the 35% strength gel.
Customer Reviews
"Great buy"
Reviewed by Jutta V. (Texas, US) on August 1, 2023:
"Excellent whitening trays at an impressive price. They're effective and simple to use. Also, kudos to the outstanding customer service! Five stars!"
"Great buy"
Reviewed by Crystal K. (North Carolina, US) on May 27, 2023:
"The trays fit perfectly, and the teeth whitening gel appears to work well."
"Great buy"
Reviewed by Amy W. (North Carolina, US) on March 10, 2023:
"Initially, I was apprehensive about my impressions, but they turned out to fit perfectly. Extremely satisfied with my purchase, though I'm still waiting to notice the whitening effects of the gel. Perhaps I should've opted for a stronger variant."
---
Comments
No Comments
---
---