Last updated: August 13th, 2023
---
When you buy through our links, we may earn a commission. Products or services may be offered by an affiliated entity. Learn more.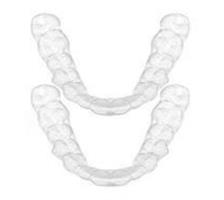 Table of Contents
Product Overview
Item Number: PROFWTE
Manufacturer: Sparkling White Smiles Dental Lab
Rating: 4.3 out of 5 (from 3 reviews)
Price: $79.99
Product Description
The Professional Custom Tray Teeth Whitening System, produced by the renowned Sparkling White Smiles Dental Lab, offers an efficient and user-friendly method for teeth whitening. This system is specially designed for those looking for professional-level teeth whitening without the hefty price tag of dentist appointments.
System Includes:
Three(3) sets of blue and white impression putty, with an extra set included for a retake impression.
Two(2) plastic impression trays, universal in size and fitting.
One(1) choice of color carrying case, which you'll receive in the final shipment.
Detailed Impression and Whitening instructions.
All-inclusive 3-way shipping (only for U.S. customers). International customers get the initial and final shipment of completed trays and carrying case.
One(1) prepaid & pre-addressed mailer for U.S. customers. Note for international customers: the shipping cost for your impressions is minimal due to the lightweight and compact size of our mailer.
FAQs
What is the thickness of the teeth whitening trays?

The custom teeth whitening trays have a thickness of 1mm, ensuring they're thin, soft, and flexible. This design allows the teeth-whitening gel to spread evenly around each tooth, offering optimal teeth-whitening effects.

Does the tray cover both front and back teeth? Or does it only cover the front teeth?

The custom teeth whitening trays are designed to cover both the front and back teeth, ensuring comprehensive teeth whitening results.
Customer Reviews
"I have been in the Dental field my whole life and I myself have made many bleaching trays. Since I am no longer working, I decided to have TeethNightGuard make me upper and lower bleaching trays. Well, I made the right decision. They are PERFECT! Not one problem from start to end. I truly appreciate your professionalism. Next, I'll be ordering a night guard." - Bobbie, United States, June 14, 2023

"I have been using these trays for years now. I am a loyal customer who will continue to reorder. If you're hesitant, please give them a try. You won't regret it." - Andrea W., United States, May 20, 2022

"I was slightly unsure about the impression process, but the trays turned out to be a perfect fit. I've started using the whitening gel, and I'm eager to see the results. Maybe I should've chosen a stronger gel." - William D., Colorado, US, February 13, 2023
---
Comments
No Comments
---
---