Last updated: November 3rd, 2023
---
When you buy through our links, we may earn a commission. Products or services may be offered by an affiliated entity. Learn more.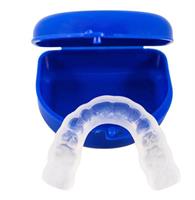 Manufactured by Sparkling White Smiles Dental Lab, the Tuff Brux Soft Custom Night Guard offers top-tier protection for those who experience moderate to heavy teeth grinding.
Table of Contents
Product Overview
At a price of $109.99, this dental guard stands out for its 4mm extra thickness, ensuring maximum protection against bruxism. The Tuff Brux Soft Night Guard is the thickest and most robust soft guard available. It is crafted using soft, flexible, cross-grained medical grade plastic, designed to last anywhere from 2 to 5+ years, depending on the severity of the user's teeth grinding habit.
Key features include:
4mm Extra Thickness Professionally made Custom Night Guard.
BPA, Latex, and Phthalate Free materials.
Perfect for those who need a soft guard but seek enhanced durability.
Customization Options
The Tuff Brux Night Guard provides numerous customization options:
Choice between upper or lower guard.
Discounted duplicate night guards.
A thinner version for daytime use.
Front Cut Option for additional comfort.
Professional Dental Appliance Cleaner.
Custom Teeth Whitening Trays with professional-grade whitening gel.
Expedited 1 to 2 day lab service.
Ordering Process
When you place an order, you'll receive a custom teeth guard mold kit, which includes comprehensive instructions, through regular mail. U.S. residents benefit from a prepaid and pre-addressed mailer. However, if you reside outside the U.S., you'll need to manage return postage costs. Once the lab receives your teeth impression, your custom Night Guard will be shipped directly to you within five days, complete with a carrying case.
FAQ
Question: I have an overbite. Should I opt for the lower night guard for Bruxism?
Answer: A lower custom teeth night guard is usually the best choice for those with an overbite experiencing bruxism.
Question: I have guards for both upper and bottom teeth. Should I get two, one for each?
Answer: In severe bruxism cases, you can wear both an upper and lower guard together. This reduces friction and extends the guard's lifespan. If you're using both, a 2mm custom night guard is recommended.
Customer Reviews
Rated at 4.7 out of 5 stars, 92% of customers rate the Tuff Brux Soft Custom Night Guard with 4 or 5 stars. Here's what some verified buyers have to say:
"Everything is as expected. Great price and quality for a custom-made dental guard." - Laurie S., Maryland, US, August 7, 2023
"Love! Easy directions to follow. Would buy again." - Kris B., Michigan, US, June 13, 2023
"I am doing well with the bite guard. Thank you!" - naomi B., Georgia, US, June 6, 2023
---
Comments
No Comments
---
---