Last updated: August 13th, 2023
---
When you buy through our links, we may earn a commission. Products or services may be offered by an affiliated entity. Learn more.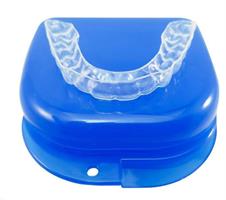 Product Details
Item Number: THINACR
Manufacturer: Sparkling White Smiles Dental Lab
Price: $119.99
The 1mm Ultra Thin Professionally made Custom Night Guard is designed for those who suffer from severe teeth grinding or bruxism. Made of hard acrylic rigid plastic, similar to an Invisalign tray or teeth retainer, this guard may also serve as a day guard or teeth retainer. It's free from BPA, Latex, and Phthalate. Lifespan ranges from 2-5+ years, depending on the degree of teeth grinding or bruxism.
Upon purchase, buyers will receive a custom teeth guard mold kit complete with instructions. This kit is shipped via regular mail, and a prepaid mailer is included for those in the U.S. For international buyers, return postage to the lab is required. Within five days of the lab receiving the teeth impression, the custom night guard and its carrying case are shipped directly to the buyer.
Customization Options
Specify if Upper or Lower Guard is desired
Add a duplicate night guard at a discounted price
Add a 2mm Hard Acrylic guard for nighttime use
Add a Front Cut Option to your guard for enhanced comfort
Add Oral Guard Professional Dental Appliance Cleaner
Add Custom Teeth Whitening Trays and Professional Teeth Whitening Gel Syringes
Expedited/Rush 1 to 2 day lab service
Frequently Asked Questions
How do I decide between an upper or lower guard?
Choosing is mostly about comfort. Most users prefer an upper guard as it doesn't interfere with the tongue, ensuring greater comfort.
I need a guard for grinding and a retainer. Is a front cut not recommended?
For protection against teeth grinding and to keep teeth in place, a hard acrylic guard is ideal. The front cut adds comfort without compromising the guard's durability or its ability to keep teeth from shifting.
Customer Reviews
With an overall rating of 4.7 out of 5.0, 93% of customers give the Ultra Thin Hard Acrylic Custom Bite Guard a 4 or 5-Star rating. Here are a few of the reviews:
"Fits great and much better priced than at the dentist. However they advertise the insurance pay and mine didn't" - Z C. (Texas, US), July 16, 2023
"I have been purchasing these for a few years. Good quality, good service. Highly recommend!" - Denise W. (US), July 15, 2023
"I've been working with this company for years. The products are excellent, processing is fast, customer service is outstanding. Highly recommend." - Erin (US), July 10, 2023
---
Comments
No Comments
---
---