Last updated: November 20th, 2023
---
When you buy through our links, we may earn a commission. Products or services may be offered by an affiliated entity. Learn more.
Table of Contents
Overview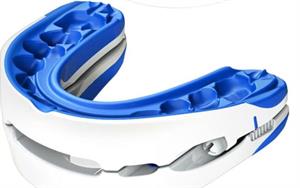 Pros:
Generous 6mm opening enhances nighttime airflow.
Adjustable multiple times to find the best fit.
Received FDA clearance.
Cons:
Adjustment tools can be tricky to use.
Potential fit issues due to design accommodating adjustment tools.
Airflow Explanation
With a generous front airway opening of 6mm, VitalSleep boasts better airflow than many competitors. Such a broad opening is critical to ensure users can breathe comfortably at night, thereby reducing snoring instances.
Usability and Adjustments
The VitalSleep mouthpiece can be adjusted without resorting to the traditional boil and bite method, making it a convenient option. However, adjusting the fit requires specialized tools, which can be more challenging for some users than the conventional fitting process. While it's possible to modify the mouthpiece over time, some users might find the adjustment tools intimidating.
Comfort and Fit Analysis
The mouthpiece's design, intended to accommodate the adjustment tools, might lead to a fit that's not as snug as one might desire. The emphasis on adjustability may compromise the device's overall retention and comfort.
Cost Details
The standard price for the VitalSleep mouthpiece is approximately $70.
Key Points from the Video Review
The video emphasizes VitalSleep's 6mm airway opening, promoting enhanced breathing. It also points out potential challenges in using adjustment tools and suggests that the fit might be less than perfect due to the device's design accommodating these tools. Finally, the cost of the mouthpiece is confirmed at around $70, with a note on the complexities and potential fit issues making the product less than ideal for some.
Frequently Asked Questions (FAQs)
Q: How large is the airway opening of the VitalSleep?
A: The VitalSleep boasts a 6mm airway opening.
Q: Do I need to boil the VitalSleep before using it?
A: No, the VitalSleep offers tool-based adjustments, eliminating the need for the boil and bite process.
Q: What's the cost of the VitalSleep mouthpiece?
A: The VitalSleep mouthpiece is typically priced at around $70.
---
Comments
No Comments
---
---